Today's the Day!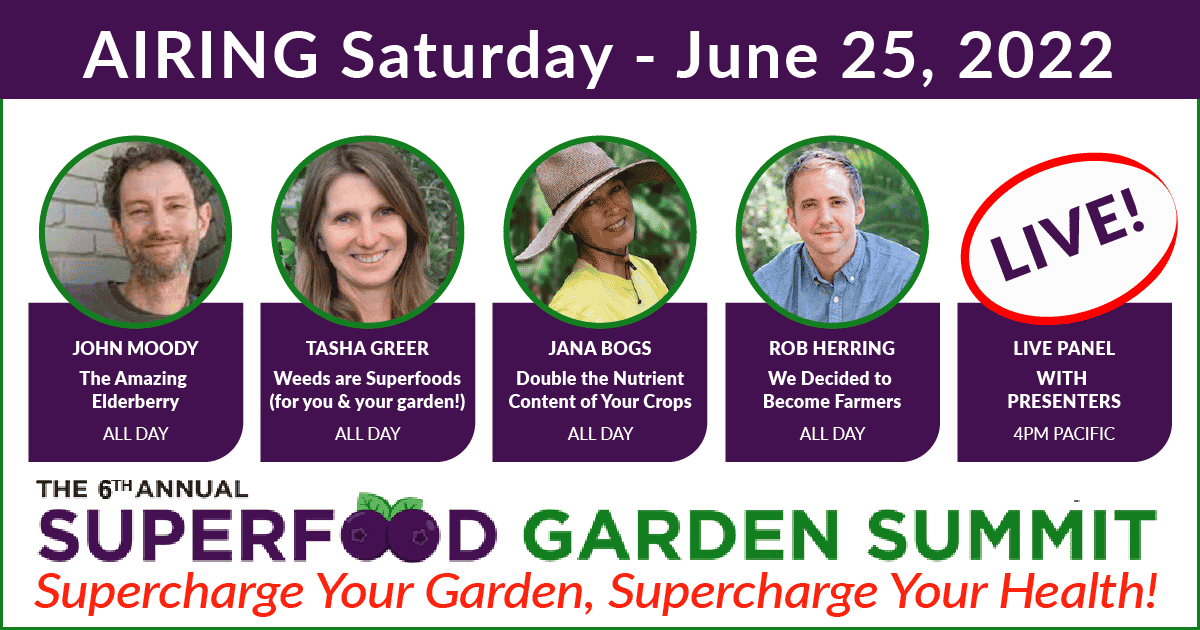 Holy herbs! Yesterday, there were so many good tips about getting the garden fundamentals right so your garden (and community) can thrive!
And you still have time to watch those presentations on replay until today at 10am Pacific.
But hurry… because there are still 4 presentations for today's grand finale PLUS a Summit After Party with more garden prizes!
Today's presentations are about seeing the opportunities for growth that are all around you. Abandoned lots can become gardens, superfoods don't have to be expensive tropical fruits, and weeds don't have to be your enemy! Sometimes, it's about shifting your perspective and working with nature instead of fighting. When you work with nature, gardening becomes easier, and your food has more nutrients and flavor!
The Amazing Elderberry with John Moody: Elderberry berries and flowers are absolutely packed with nutrition AND they're easy to grow and propagate in lots of different spaces. This prolific plant will put some zing on your plate…and your immune system!
Weeds are Superfoods too! (for you & your garden) with Tasha Greer: Take a tour of Tasha's weed-free homestead, and take a sneak peak inside her new book, Weed Free Gardening. You can prevent weeds before they even sprout by implementing savvy garden design, improving your soil, and addressing problems…at the root!
Double the Nutrient Content of Your Crops + Citrus for Cleansing with Dr. Jana Bogs: Food is medicine…when you're eating the right food! The nutrient density of our food has decreased alarmingly over the last century, and our health is suffering for it! Learn how caring for your soil and going Beyond Organic ensure your food has all the vitality Mother Nature has to offer. Unlock vibrant health…just by eating!
We Decided to Become Farmers film with Rob Herring: "We Decided to Become Farmers" follows the inspiring journeys of four urban farmers in Boston and Detroit. "We wanted to have a farmer's market in our neighborhood, and we couldn't get any farmers to come," says Bobby Walker of The Urban Farming Institute, "So we decided to become farmers." The film highlights the power of growing your own food to foster hope, renew communities, and create health for your body and family.
I can't believe the Superfood Garden Summit is almost over. You don't want to miss this!
See you there!  Dr. Jana
p.s. If you're thinking about OWNing the entire Summit so you can watch it again and again (which I highly recommend), I heard this is your last chance to take advantage of the special event offer on the Superfood Success Kit.