Nutrition Farming for Hawaii (NFH) is a grant-funded research and demonstration garden project, which also provides food to the community.  The aim is to demonstrate how food nutrient content is affected by soil health, show these parameters can be improved, and disseminate the information.  The overarching goal is to improve human health and raise environmental awareness.
The NFH project is led by Dr. Jana Bogs in collaboration with Hawaii Institute for Pacific Agriculture (HIP Ag) who provide land and much labor.  Dr. Hector Valenzuela, a full professor and Hawaii statewide Vegetable Crops Extension Specialist at the University of Hawaii at Manoa, is in the role of advisor.
The project was started in 2017 on soil that had been fallowed to pasture for approximately 40 years.  Before that, it was in conventional sugarcane production for about 100 years.
The soil was tested with a Nutrition Grown™ soil analysis and a soil microbial analysis.  Amendments, fertilizers, and microbial inoculants were added.  Twenty-four varieties of garden crops were planted throughout the first year, including various lettuces, kales, collards, arugula, carrots, beets, radishes, amaranth, taro, green beans, basil, cilantro, bok choy, chards, green onions, and cucumbers.   Plant tissue analyses were performed and used to determine the best foliar nutrient sprays to be applied.  Testing of the nutrient content of the final food products was also done throughout the year, and the values were compared to the USDA Food Nutrient Database values.  (See examples below.)
The soil was re-analyzed in the fall, six months after the soil amendments had been added.  These analyses were compared and summarized in a chart below.  In addition, soil microbial life had multiplied to 15 times the original number.  Please note that soil improvements, and hence plant tissue improvements, take place over a period of years.  We were pleased with the progress achieved in this, our first year.  Overall, the Nutrition Grown™ crops contain close to double the nutrient content as compared to the USDA database values.
We were especially pleased to see improved levels of nutrients, like calcium and zinc, which are often lacking in human diets.  In the end, it is all about achieving the right balance of nutrients, not just "more".  Some items, such as phosphorus, were at lower levels in our Nutrition Grown™ foods than in the USDA chart.  Phosphorus is rarely lacking in human diets, so we are not as concerned about the lower levels.  The soil had very low levels of phosphorus and we did add some soft rock phosphate, an organically-acceptable form which comes available slowly in the soil.  We will be adding more phosphorus in the future, especially since Hawaii soils tend to tie up phosphorus, making it unavailable to the plants.  Getting the soil right takes some time!
We shared our progress throughout the year on the BeyondOrganicResearch.com blog and in local newspapers,  including a front page article (below), as data became available.  Dr. Bogs presented the project formally to HIP Ag interns in September and at the Third Thursday Thrive meeting in October.  Nutrition Farming for Hawaii booths gained attention at both the well-attended `Aina Fest and the Nuts Festival in Kona.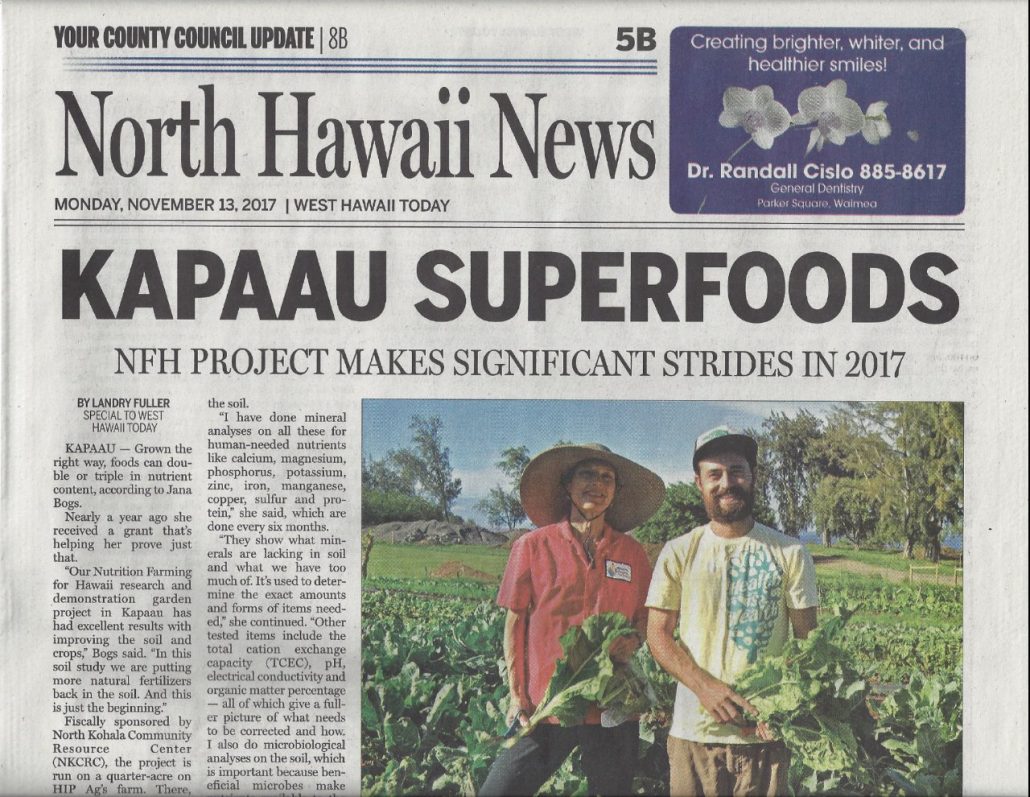 It is with much heart-felt gratitude that we thank our grant-making foundations for fully funding our project in 2017.  We also thank our fiscal sponsor, the North Kohala Community Resource Center, a 501(c)3 non-profit organization, for helping us through the process of grant-finding and administration.  We are seeking funding for 2018 to continue our work.  If you love what we are doing, please consider a tax-deductible donation of any amount–click here.