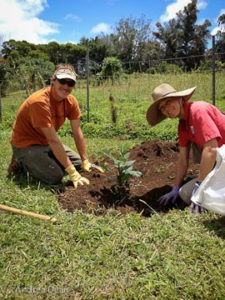 Written by Andrea Dean | 27 April 2012
Volunteers spent Earth Day reviving the grounds of the Kohala High School Ag Program (Dr. Bogs on right)
For 30 years Uncle David Fuertes was the agriculture teacher at Kohala High School. In its glory days the ag program made $25,000 per year by growing and selling its own products. The program emphasized entrepreneurship and leadership skills, as well as agricultural skills. They had a greenhouse, certified kitchen, four acres of vegetables and animal pastures. Many of Kohala's leaders today were students who were mentored by David in the Hawai'i Future Farmers of America (FFA) program—including High School principal Jeanette Snelling, and Adriel Robitaille, the new Ag teacher. After attending college it was Adriel's dream to come back to Kohala and to revitalize the ag program. That dream is now becoming a reality.
On Earth Day, Saturday, April 21st— former Hawai'i FFA graduates, All About Trees, Ka Hana No'eau students, and volunteers from the North Kohala Eat Locally Grown Campaign came together with Uncle David to help Adriel with some major projects at the site.
Crews cleared out invasive African Tulip trees, pulled out stumps from otherwise usable land, cleaned out the greenhouse, moved piles of roofing, laid irrigation pipe and planted two breadfruit trees. Previously, much of the site was literary unearthed—Adriel and the students removed grass that had grown 4 feet tall off the floor of the greenhouse, pulled sinks and tables out of the bushes, and beat back the jungle from the classroom.
Rebuilding the program is a major project, but the Kohala Ag program is already hosting a new chicken coop (with chickens), a pasture with goats, a taro lo'i and an aquaculture tank (fish coming soon…now that there is water!).
It has been a long wait, but the North Kohala High School Ag program has begun its renaissance, and district families and students are energized.
---
Andrea Dean, MBA, of Sustainable Initiatives works with communities, businesses and non-profits on initiatives that enhance island economy, environment and community. Andrea is also the Special Projects Coordinator for the Hawai'i Homegrown Food Network, and is co-coordinator of the Ho'oulu ka 'Ulu – Revitalizing Breadfruit program.
1 Comment
Tuesday, 01 May 2012
I am so glad to learn that the Kohala High Ag Program is being revitalized. Years ago as President of the Hawaii State Young Farmers Association, I collaborated with David Fuertes to recognize and honor students in the North Kohala Future Farmers of America program. When I quite a few years later lived for 10 years in North Kohala, I was dismayed by the absence of the ag (and other trades like woodworking and mechanical) program from the high school curriculum. Does this mean than more generous resources for practical, hands on education are flowing back into DOE? I hope so.
Upcoming Events
https://beyondorganicresearch.com/wp-content/uploads/2017/06/bor-logo.jpg
0
0
Dr. Jana Bogs
https://beyondorganicresearch.com/wp-content/uploads/2017/06/bor-logo.jpg
Dr. Jana Bogs
2012-05-06 20:33:54
2014-09-26 19:24:23
Kohala High School Ag Program Grows Again