We were blessed with grant funding this spring for starting the 2nd year of our Nutrition Grown Research and Demonstration Garden.  Our first order of business was to thoroughly re-analyze the soil.  Then we added our fertilizers and amendments.  We repeat this procedure every 6 months to gradually bring our soil to optimal levels of fertility.  Because we have to feed the soil slowly over time to avoid harming the beneficial microbes, it can take years to optimize the soil, but all the effort is worth it!  Balanced, healthy soil (with all its beneficial microbes) is what makes healthy plants, and (subsequently) happy, healthy people!
Numerous researchers are coming to the conclusion that human health really does begin in the soil.  The microbial life in the soil AND ON THE PLANTS can be related to our own  microflora, which is mainly in our intestinal tract, but also on our skin, and even in our organs.  A healthy variety of microorganisms performs a myriad of functions. Some microbes make amino acids, some make vitamins.  Other microbes make nutrients more available and some are even involved in cell signaling, which can control genetic expression.
Each food plant has its own set of compatible microbes.  Interacting with food plants in the raw state, with their live beneficial microbes, can be very important for our health.  Food is information.  This is part of the reason why raw food diets can be so healing.  We evolved with the plants.  We need to have our daily dose of Nature–touching, smelling, eating.  Having your own healing Nutrition Grown garden with a variety of herbs, vegetables and fruits can be the quickest route to great health.  It's Nature's "farmacy"!
The First of This Year's Nutrition Grown Garden Results
Yes, we did get some crops planted in our garden, and got them grown up enough to take plant tissue samples.  Then I compared the results on our green onions to the USDA Food Nutrient Database. We saw increases on all but one measured nutrient (sodium).  I also looked back at last year's values for our green onions and saw some nice improvements. (See https://beyondorganicresearch.com/nutrition-farming-hawaii/ for last year's garden results.)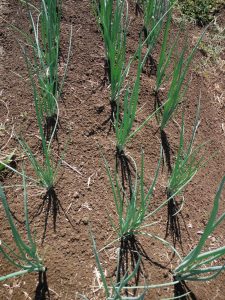 It sure is exciting to watch the improvements over time!
Stay tuned for more!
Blessings,  Dr. Jana Bogs
https://beyondorganicresearch.com/wp-content/uploads/2017/06/bor-logo.jpg
0
0
Dr. Jana Bogs
https://beyondorganicresearch.com/wp-content/uploads/2017/06/bor-logo.jpg
Dr. Jana Bogs
2018-07-31 10:53:32
2018-07-31 10:53:32
Results from our Nutrition Grown Research and Demonstration Garden-- Now in its 2nd Year